Versatile Temperature Control
Extremely easy to use and maintain, the 75 Liter Refrigerated Circulating Bath combines design innovation with highly intuitive operation for convenient and versatile liquid temperature control in a wide range of applications. The advanced Programmable Temperature Controller offers endless array of thermal cycling options and program, and complies with DIN 12876-1 Class III safety requirements for use with flammable liquids.
Key Specifications
Working Temperature: -20° to +100°C 
Temperature Stability: ±0.005°C 
Cooling Capacity: 1400 watts @ 20°C 
Working Access (LxWxD): 21.6 x 15.7 x 9.4" (54.9 x 39.8 x 23.9 cm)
Features
DuraTop™ insulating, chemical-resistant top deck
WhisperCool® Environmental Control System
Cool Command™ modulated refrigeration system
Reservoir drain
Washable air filter
OpenMode time/temperature programming (no restrictions on number of programs or steps)
Intuitive 4.3" (10.9 cm) SmartTouch display
11 languages: French, German, Spanish, Chinese, Portuguese, Russian, Hindi, Arabic, Italian, Korean, English
Variable speed pump with open- and closed-loop external circulation capability
Swivel 180™ Rotating Controller
On-board connectivity: USB-A & B, Ethernet, RS232/485, remote on/off and external temperature probe
Event scheduling (time & date) with real-time clock
Review temperature trends for up to 10 days
Multiple selectable home screens
On-screen help
Automatic and/or user-adjustable performance optimization
10-point calibration capability
Includes Enhanced Performance Hardware & Software Package (Pt100 temperature probe, USB flash drive for data logging, stainless steel fittings and tubing adapters, and PolyScience LabVIEW™ Virtual Instrument)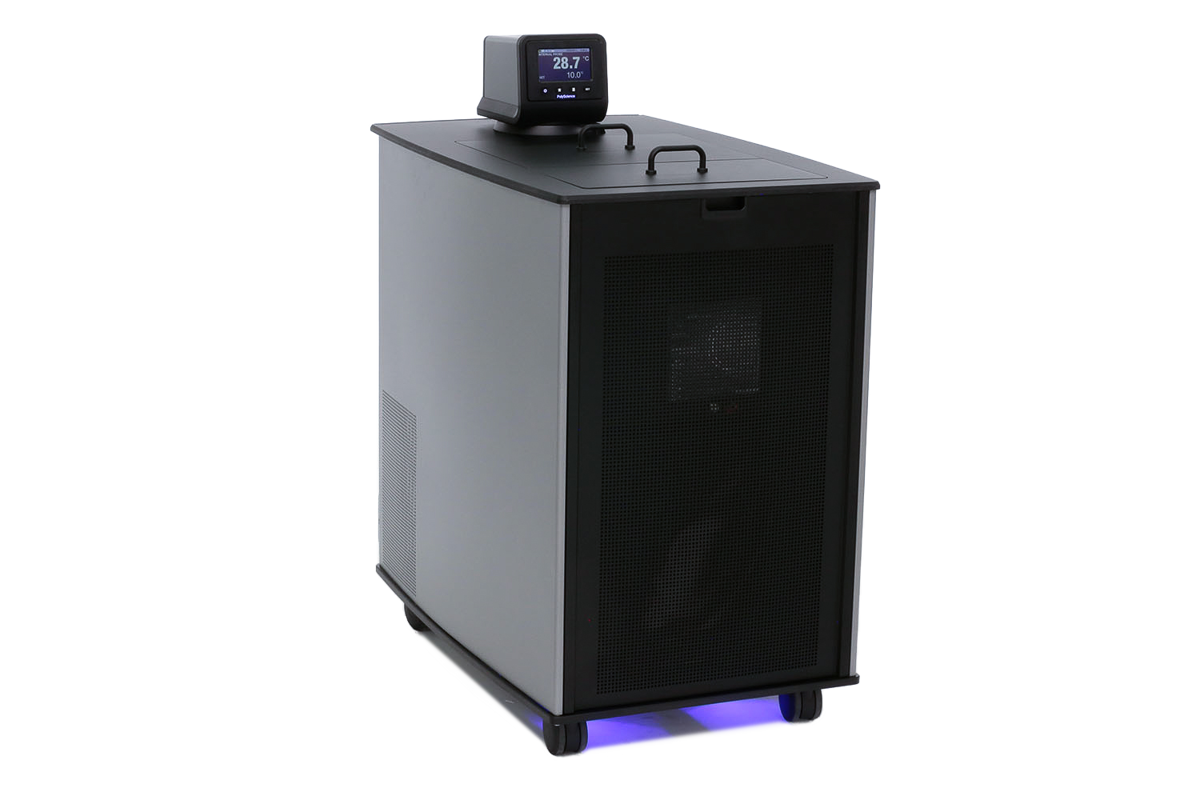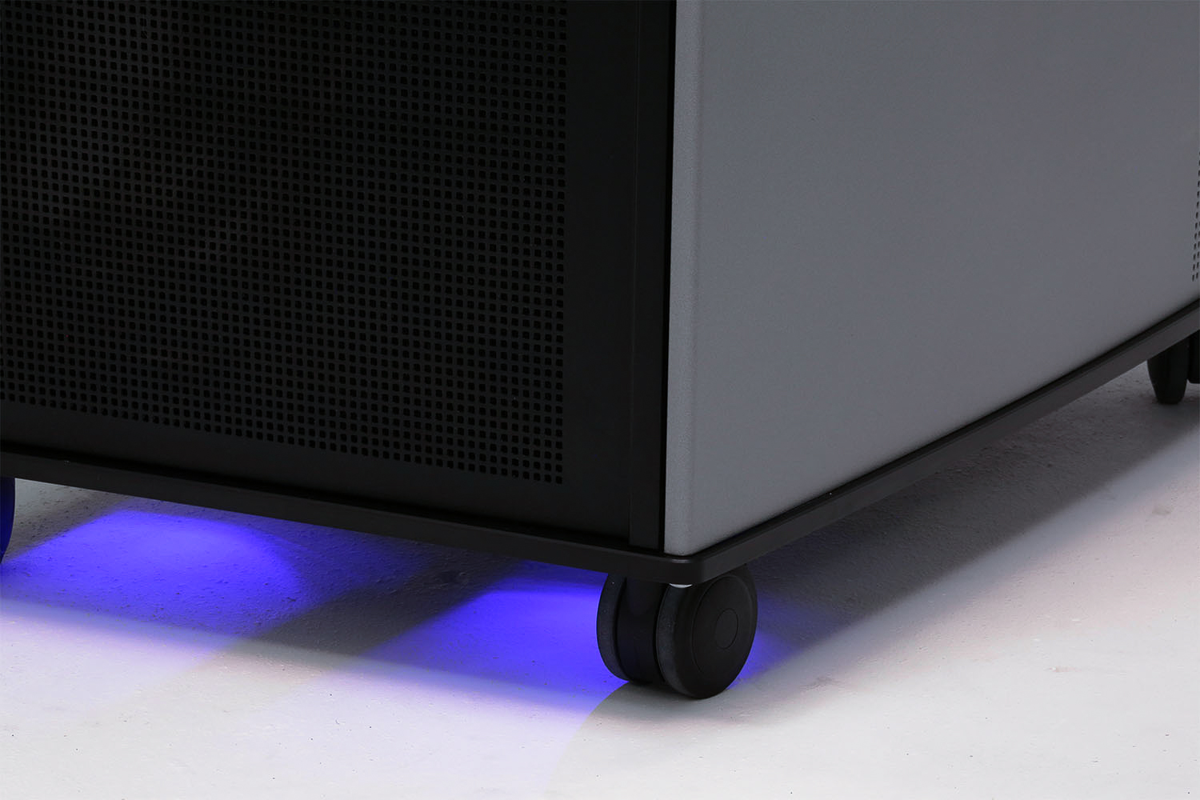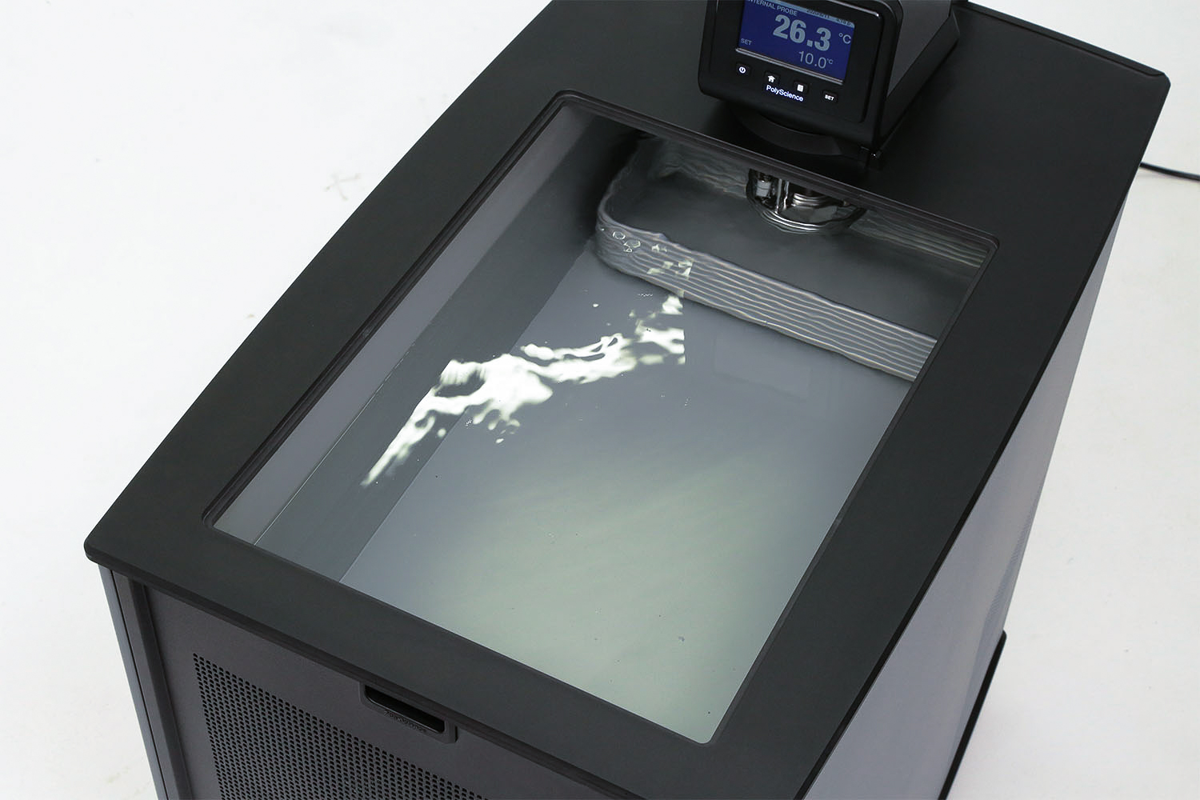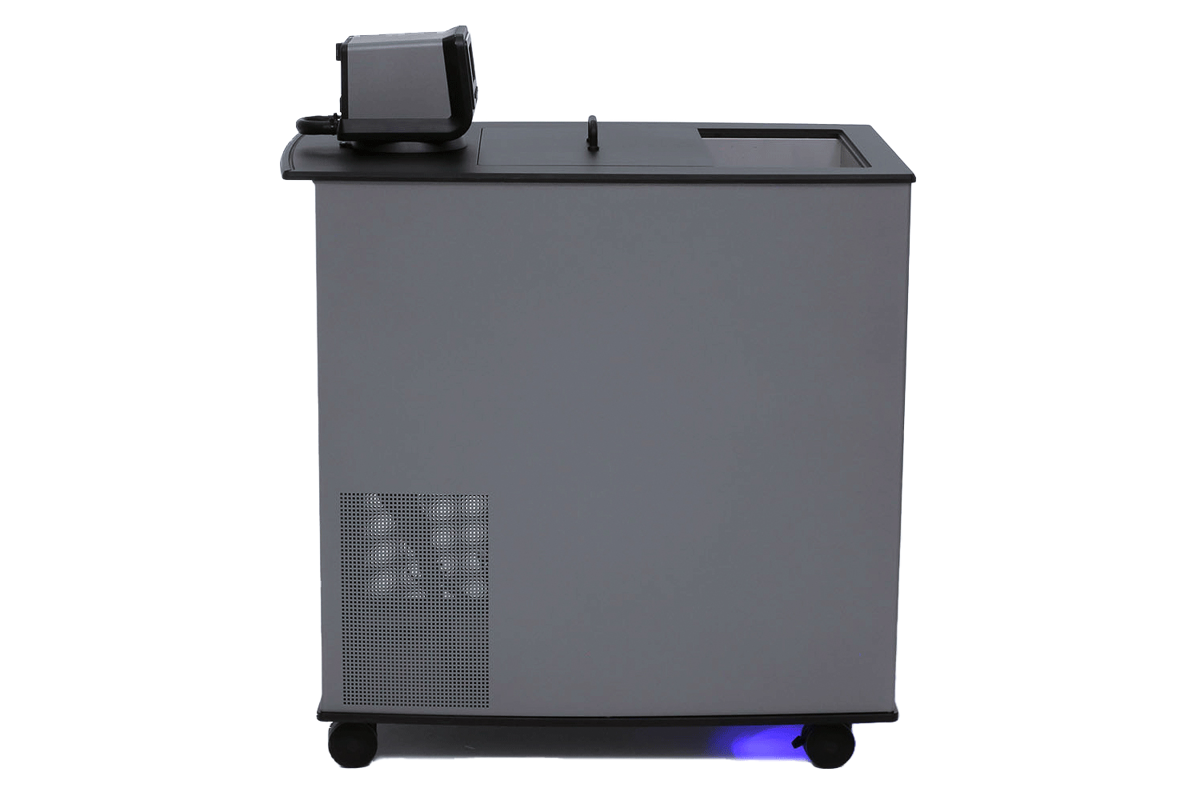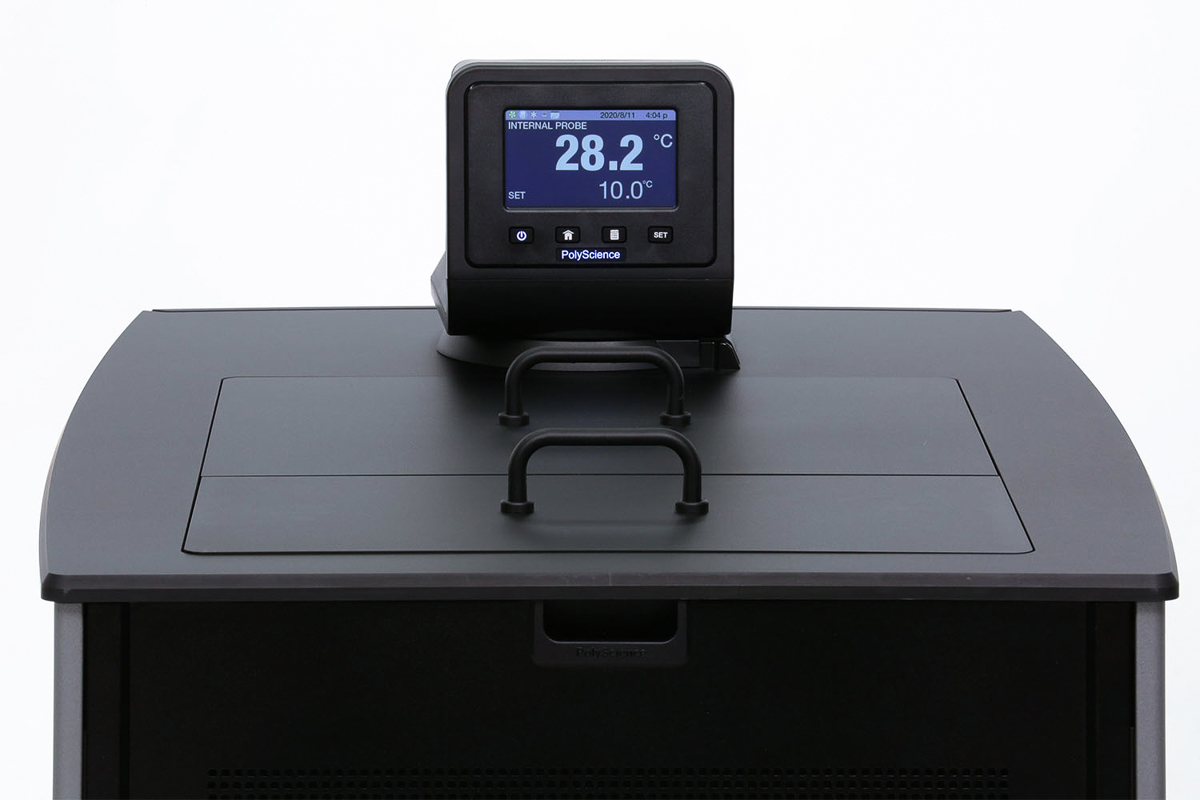 Part Number for 60 Hz Model
Part Number for 50 Hz Model
Part Number for 60 Hz Model
Part Number for 50 Hz Model
Intuitive and Precise
Our controllers display it all: internal bath temperature, external bath temperature, set-point and more–all on one easy to read screen.
Whether equipped with the entry-level controller or our most sophisticated icon-driven SmartTouch™ interface controller, PolyScience units are extremely easy to use. Clear navigational buttons and menu prompts guide you through setup, making operational and temperature set-point changes simple and precise.
Advanced Programmable temperature controllers guide you through setup and operation using universal icons, on-screen help and logical menus.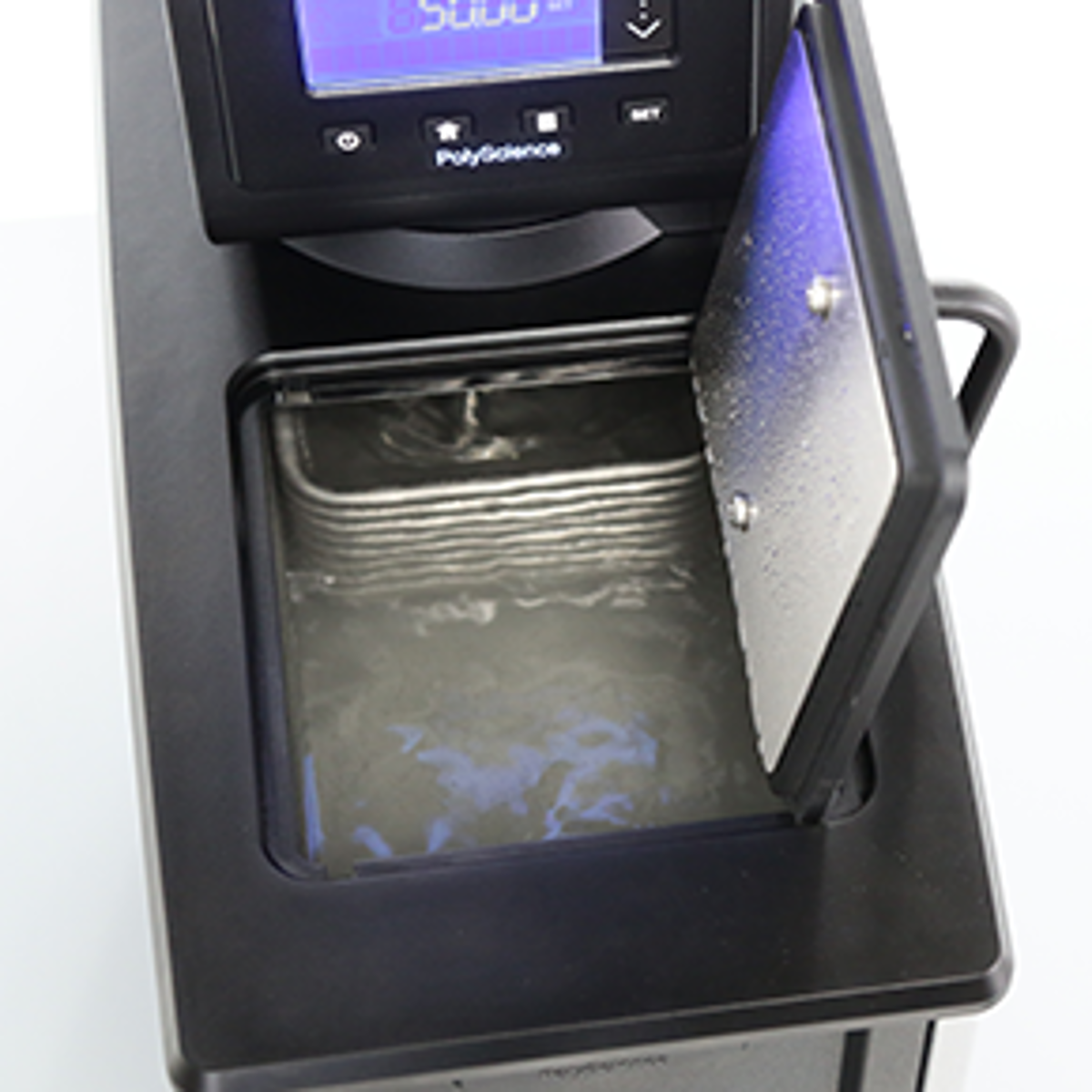 Safe and Reliable
Redundant over-temperature protection, high and low temperature limits and alarms alert you instantly to conditions that fall outside normal operating parameters. Lockout capability prevents unauthorized operational changes.
The elimination of RoHS-specified chemicals substances from fabricated components contributes to a cleaner, safer environment. In addition, all of our baths comply with WEEE, IEC 61010-1, IEC 61010-2-010, IEC 61326-1, DIN 12876 and are CE and ETL certified.
Class III Safety
Our Advanced Series Controllers feature temperature and float shut-off systems meeting DIN 12876-1 Class III standards for use with flammable liquids.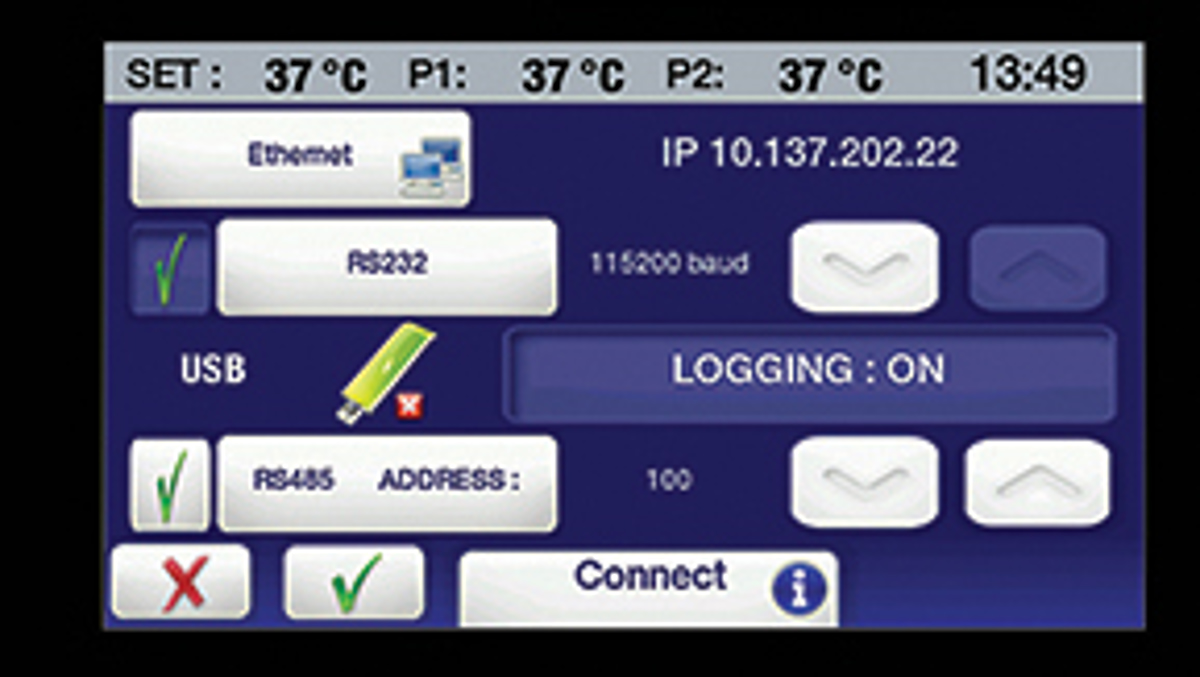 Connected
Extensive connectivity capabilities enable you to control and communicate with your circulator in a wide variety of ways, including Ethernet, RS-232, addressable RS-485, USB-A and USB-B.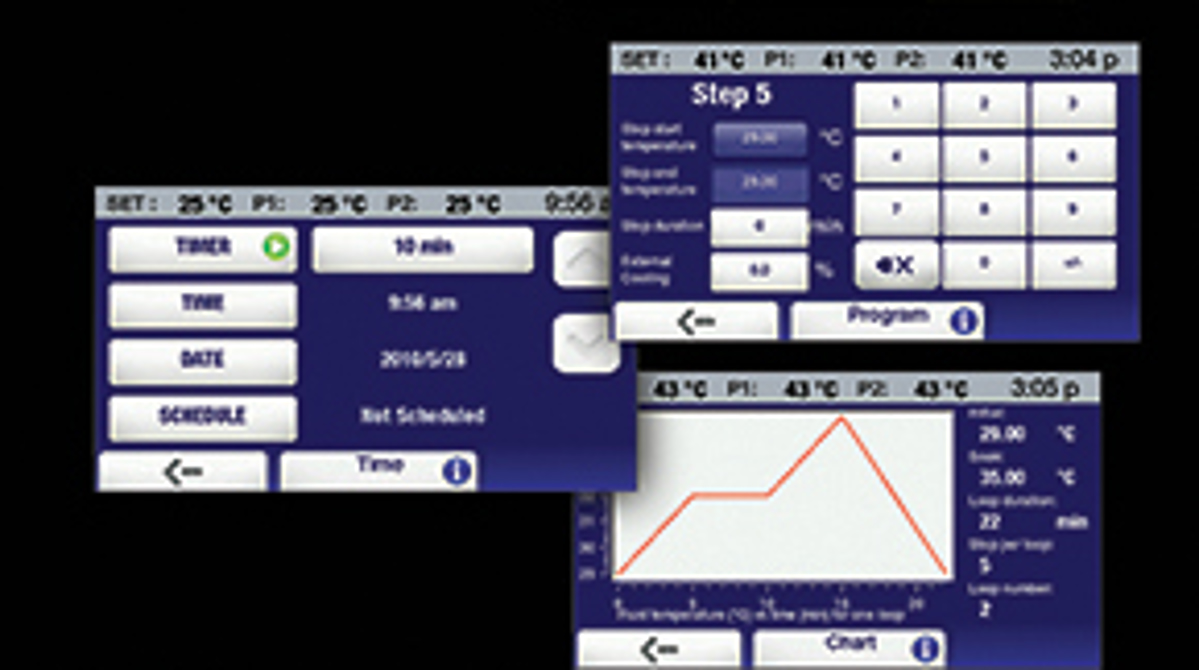 Total Control
Review and run even the most complex ramp and soak temperature program quickly and easily without any guesswork.
Highly intuitive programming application lets you add, edit or delete steps quickly. Settable time or temperature priority ensures programs run as intended.
Plain-text program naming and preview function make it easy to identify stored programs.
Convenient upload/download utility allows you to easliy share or backup stored programs.
The intelligent scheduling application even lets you schedule a program to run automatically – hours, days, weeks, even months in the future.