Powerful cooling performance in a compact package
PolyScience Benchtop Chillers deliver superior temperature ranges and consistent performance without taking up valuable floor space. These powerful units are ideal for use with rotary evaporators, vacuum systems, spectrometers and other analytical instrumentation. They feature a microprocessor-based controller, digital temperature display (C or °F), and simple operation and maintenance. They also are available with a mobile cart accessory for convenient placement under a bench.
To learn more about our Chillers and Coolers, download our free information guide here!
Looking for cannabis-related products? Download our Cannabis Selection Guide here!
Features
Large, easy to read LED display
Space-saving design
Cooling at ambient temperatures as high as 30°C
Low flow shutoff and alarm, high and low temperature alarms
Front mounted fluid level gauge
Simple setup, operation, and maintenance
Choice of pumps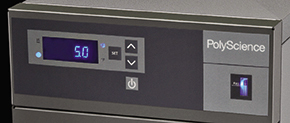 Large, easy to read temperature display lets you check operation at a glance. Front mounted fluid gauge lets you quickly determine if coolant needs to be added to the reservoir.
Reusable front mounted air filter is easily accessible and provides energy efficient cooling.